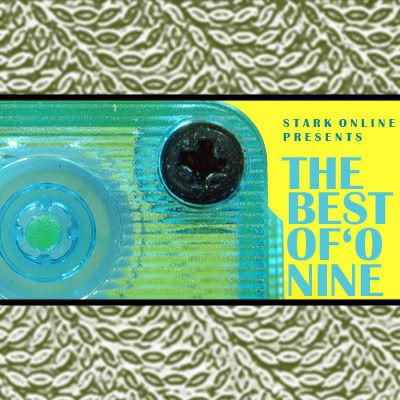 Well, here we are again at the end of another sensational year for music and pop culture, and here you are, reading a list of the best albums of 2009 for the umpteenth time. (It's the third list on Stark in as many days, because that's how we roll.) I really feel for you. These lists can get grating, and they can also get to be a little redundant, especially when they all pile up in the last few weeks of the year and tend to feature a lot of the same artists. It's no different this year, but for the first time in a long time, the handful of albums we see topping most lists in December actually deserve to be there.
That's why I'm referring to 2009 as the year the bloggers got it right. Go us! I don't remember the last time so many albums lived up to the ridiculous hype that bloggers bestowed upon them prior to their release. This year, we got a couple of bonafide classics, most of which were heralded months in advance and proceeded to dominate our playlists long after they came because of how great they actually ended up being. Not so long ago on this here blog, I famously derided the band whose album tops my list this year for being noisy and indulgent. But then, after I could no longer resist the deafening buzz surrounding their upcoming album, I gave in, listened to the disc and was utterly blown away. I opened up my ears, and my throat, and my universe shifted forever.
So here are my favorite 20 albums from the last 12 months – the ones that I consider the best. I'm glad that others think some of them are, too. It was excruciatingly difficult to narrow down a list of hundreds of albums to a mere 20, and even harder to put my love for these bad boys into words. But in the end, the music makes the struggle worth it. The list begins after the jump!
20. Camera Obscura: My Maudlin Career (4AD)


Sugary sweet but never to a fault, My Maudlin Career is a lush, string-laden affair that takes its cues from the Motown Sound. But beneath the sweeping production lies a profound sadness. Lead singer Tracyanne Campbell is careful to mask her emotions at first, but as the band breaks down behind her with each progressive song, her heartache becomes clear when all that's left to hear is a morose, Scottish voice lamenting on love lost.



19. Relient K: Forget and Not Slow Down (Mono Vs. Stereo)




There's no doubt about it: Forget and Not Slow Down is absolutely, positively Relient K's breakup album. And if you subscribe to the school of thought that most great albums come from the dissolution of a relationship, then Forget just might be the group's best. But there's a twist. Instead of singer Matthew Thiessen moping around for 45 minutes, he writes a cathartic, undeniably hopeful album for himself. His credo is right there in the title track: "I'd rather forget and not slow down / than gather regret for the things that I can't change now." Thiessen's bandmates provide him with just the right amount of spunk on hooky songs like "Part of It" and "Savannah" for him to pick his life back up and move on.



18. Phoenix: Wolfgang Amadeus Phoenix (Glass Note)




Was there a better surprise in 2009 than the emergence of Phoenix as the year's breakout rock band? Propelled by two instant classic singles in "1901" and "Lisztomania," Wolfgang Amadeus Phoenix sent the veteran French quartet to Saturday Night Live, Cadillac commercials and even a Grammy nom. How perfect that for once, there was little disparity between a band's critical and commercial success. Wolfgang's immediately accessible, airy synth-rock makes it the band's best album by a mile.



17. Girls: Album (True Panther)




Forget, for a moment, the impossible hype and grossly compelling back story that preceded Girls' debut album this year. When you cut out the perfectly nostalgic videos and lead singer Christopher Owens' escape from the Children of God cult, you're still left with a remarkably assured debut. The 12 songs on Album are washed in lo-fi San Francisco surf, recalling classic Beach Boys melodies sung in Owens' heartfelt snarl. The centerpiece is the psychedelic "Hellhole Ratrace," which finds the drug-addled and heartbroken Owens professing "I don't want to cry my whole life through / I want to do some laughing too."



16. Julian Casablancas: Phrazes for the Young (RCA)




It's far too easy to call Phrazes for the Young the best album from any of The Strokes members' side projects, because it beats its middling competition by a landslide. (No offense, Nickel Eye.) It's probably more appropriate to compare frontman Julian Casablancas' first solo effort to the three Strokes albums: It can't hold a candle to Is This It (then again, what can?), but it suits up well against Room on Fire and First Impressions of Earth. Phrazes is a giant mess, with delightfully schizophrenic pop songs transforming into futuristic blues jams mid-verse. Casablancas' familiar croon and songwriting almost make the whole thing work, if not for a few tracks of filler toward the end. Still, if this is what we're left with in the Strokes' prolonged absence, we could do far worse.




15. Roman Candle: Oh Tall Tree in the Ear (Carnival)




Oh Tall Tree in the Ear, the third album from Nashville-via-Chapel Hill roots rockers Roman Candle has a crisp, natural air to it. The Metheny clan – singer Skip, his brother Logan and his wife Timshel – approach each song with little to no frills, preferring to let the songs breathe as songs and not as bloated productions. And there are some mighty fine songs here, from the driving pop of opener "Eden Was a Garden" to the disc's best ballad, "Big Light," a slice of Americana with swirling organs. For such a wonderfully simple album, it sure went woefully unnoticed this year.



Roman Candle "Eden Was A Garden" from Lake Fever Sessions on Vimeo.



14. Wilco: Wilco (The Album) (Nonesuch)




Wilco (The Album) is the most disappointing album on this list, if only for what it had the potential to be. There's not a better opening salvo of songs this year than the 1-2-3-4 punch that begins with the joyous "Wilco (The Song)" and concludes with "Bull Black Nova," a frantic piece of krautrock that teeters on chaos for much of its six-plus minutes. The songs that follow are certainly adequate, but none reach the kind of diverse and dizzying heights found at the top of the album. For diehards, (The Album) falls short of being essential, but for Wilco virgins, it's a fine introductory set – a palette of styles from the band's storied career thus far.



13. The Antlers: Hospice (Frenchkiss)




Trying to summarize the emotional weight that Hospice brings in a mere sentence or two feels cheap, so instead, try this: Listen to the entire thing from start to finish, and if you aren't left with a giant lump in your throat (or bawling your eyes out) by the end of it, then you're not human. Lead Antler Peter Silberman crafts a heartbreaking song cycle – ostensibly from his own personal experience – around a terminally ill cancer patient and her caregiver, detailing the fractured, complex relationship the two figures share. In the end, resolution isn't as inevitable as death. "Some patients can't be saved, but that burden's not on you," sings Silberman in the penultimate "Wake." Hospice shows there's no easy way to cope with loss, and while that uncertainty is rarely less than heartbreaking, it's almost always beautiful.




12. Morrissey: Years of Refusal (Lost Highway)




There isn't much new to be found on Years of Refusal that Morrissey hasn't already uncovered a million times before. Yet the sad sack's tried-and-true formula combining gloriously sardonic wit and theatric guitar pop still manages to surprise. The Moz has hardly ever sounded as aggressive as he does on "Something is Squeezing My Skull," or more aching than on "It's Not Your Birthday Anymore," which strays dangerously close to contemporary emo but rapidly shifts gears from syrupy verses to a primal scream in devastating falsetto. Much of Years' success can be attributed to the singer sounding completely invigorated on the album. That excitement is no doubt spurned by his powerful band and sterling production from the late Jerry Finn, who died after recording the album last year. It's refreshing to hear the so-called 'pope of mope' write and sing with such assault in middle age.



11. WHY?: Eskimo Snow (Anticon)




It must have been daunting and nearly impossible for Yoni Wolf to follow up his magnum opus from last year, Alopecia. The fact that the WHY? frontman matched, if not bested, himself on Eskimo Snow shouldn't be a total bombshell – the man is a neurotic genius – but it's more remarkable when you consider that Wolf wrote and recorded both albums simultaneously. Since the two works must therefore be looked at together, Eskimo is Alopecia's quiet, more fragile cousin. Compared to its counterpart, there's nary a trace of hip hop present. The album is almost exclusively melodic, and actually very sweet in some parts ("This Blackest Purse," the title track). But thematically, much is the same between the two: Wolf's fears and phobias are still uncomfortably front and center, and we still marvel at the bizarre ways in which he puts them to words. Unless the band has a third disc culled from the same sessions hidden up its sleeve, now Wolf has the unenviable task of topping two brilliant albums.



10. Manchester Orchestra: Mean Everything to Nothing (Favorite Gentlemen/Canvasback)




The second proper full-length from Manchester Orchestra is a revelation, earning just comparisons to two of the best sophomore albums from 1990's alt-rock heavyweights: Weezer's Pinkerton and Foo Fighters' The Colour and the Shape. Like those two gems, this album expands upon its predecessor in every way: It's full of raw angst and unfiltered poetry from frontman Andy Hull. He captures what it's like to be a twentysomething on the precipice of a new, adult life, split between shunning that tide and reluctantly embracing it. The music is so perfectly composed of passion, quirk and feedback that the band's sound and influences are immediate: Nirvana ("In My Teeth"), Neutral Milk Hotel ("The Only One") and Modest Mouse ("I've Got Friends.") At the ripe old age of 22, Hull possesses songwriting talent far beyond his years, which is a joy for the rest of us waiting for his next move.



9. Passion Pit: Manners (Frenchkiss)




At the end of last year, Passion Pit was blowing up in the blogosphere with its infectious Chunk of Change EP, which was rife with goofy dance beats and an even more outlandish falsetto courtesy of singer Michael Angelakos. The EP was a delightful diversion, but there seemed to be a consensus that the band was little more than flash-in-the-pan, and couldn't possibly sustain its sound – especially that inane voice! – for an entire album. Manners triumphantly proved the skeptics wrong. It beams with light and unbridled energy, weaving through an array of styles with astonishing ease. Angelakos and co. also proved they were capable of creating moments of sheer splendor, like the collision of sitar and vocal chants in "Moth's Wings" and the enchanting final choruses of "Seaweed Song."



8. Sondre Lerche: Heartbeat Radio (Rounder)




Somewhere out there, in an alternate universe where restrictions of time and trend have no bearing on popularity, every song on Sondre Lerche's Heartbeat Radio is a massive radio hit. Unfortunately, today's Top 40 airplay – hell, even modern rock – has no room for the superbly weird Lerche, the rare artist whose every left-field move gets thrown to the wall and has a habit of sticking. The young Norwegian songwriter does it all on Heartbeat, from lounge balladry ("Like Lazenby") to Tin Pan Alley ("Words & Music") to space-age psychedelia ("Pioneer.") Lerche may never earn the type of ubiquity that he deserves (nor does he want it), but as a consolation prize, he's got a long, unpredictable career ahead of him.



7. Brand New: Daisy (Procrastinate Music Traitors/Interscope)




The members of Brand New are relentless in their refusal to stay in one place for too long. After three albums that sound virtually nothing like each other, Daisy keeps to the same pattern. But for the first time, the band doesn't just jump styles between albums – this one follows 2006's The Devil and God are Raging Inside Me – it takes jarring leaps between songs on the same one. Daisy kicks off with the oddest and heaviest song in the Brand New catalog ("Vices," a post-hardcore stomp with illegible screaming) and is immediately succeeded by the quietest ("Bed," a lazy grunge ballad that finds singer Jesse Lacey doing his best Kurt Cobain impression.) It's by far the most mystifying set by the band yet, but like each one before it, it's dazzling.



6. fun.: Aim and Ignite (Nettwerk)




When Arizona pop maestros The Format called it quits early last year, singer Nate Reuss wasted no time in picking himself up, moving to Brooklyn and starting a new band with members of Steel Train and Anathallo named fun. Just as The Format's final opus, Dog Problems, was a slice of sweeping, 1970's pop, so is its logical successor, Aim & Ignite. There's so much to love here: orchestral flourishes, enchanting harmonies, tinges of gospel and a wonderful dichotomy between Reuss's melancholy words and happy-go-lucky hooks. Appropriately enough, it's really the most fun put to tape all year.



5. Fanfarlo: Reservoir (Atlantic)




Matched with the same dramatic intensity and penchant for slow-building climaxes, Fanfarlo sounds like a more twee version of Arcade Fire. Similarities between Reservoir and the landmark Funeral abound – horns and strings, male and female vocal interplay, marching rhythms – but unlike so many copycats that blatantly imitate the Canadian behemoths' sound, Fanfarlo might actually improve it. Win Butler doesn't quite have the tremendous pop sensibility as Fanfarlo bandleader Simon Balthazar, who effortlessly twists out charming melodies in his soothing drawl all over Reservoir's songs. His voice rarely rises above a hush, instead honing power from the instruments behind him to drive the point home. Debut albums with such stunning focus don't come around often.



4. Grizzly Bear: Veckatimest (Warp)




Veckatimest has the potential to be a classic just from its soft, striking bookends: A dirty jazz riff gets fiddled around in the background at the start of "Southern Point," and a haunting piano refrain fades into stillness at the end of "Foreground." These are two amazing moments, but what about when every soaring height and lingering low that's in between is even better? Well, that's when an album is timeless. The four masterminds in Grizzly Bear laboriously created Veckatimest with precision and finesse, aiming to challenge our pre-conceived ideas of what constitutes beauty in modern music and succeeding more than anyone could have imagined.



3. Dirty Projectors: Bitte Orca (Domino)




There's no middle ground with Dirty Projectors. You either emphatically love or diabolically loathe them. You either want to ascend to the heavens with Dave Longstreth and company or off yourself for fear of further subjection to the band's incessant noodling and obvious pretension. Depending on which camp you fall in, the group's sixth album Bitte Orca is either a sprawling mishmash of fractured song ideas and odd time signatures, or an inspired masterpiece of fully formed songs with so many complex layers that you discover something new and great each time you listen. With that being said, this is the third best album of the year.



2. The Avett Brothers: I and Love and You (American)




In contrast to Dirty Projectors, it's hard to find anyone who doesn't like The Avett Brothers. The folk rockers have been pouring their hearts out with acoustic guitars and banjos for close to a decade, building a big adoring, fan base and just as many casual admirers. For their major-label debut, I and Love and You, the group scaled down much of the raw, rollicking sound that defined its earlier albums in favor of a more polished collection of midtempo ballads. While a move like that often spells trouble, the group pulled off just the opposite: These are the best songs they've ever written. Every word on the album is personal to brothers Scott and Seth but profoundly universal to the world at the same time, and it takes exceptional artists to find that kind of balance in their songwriting. With I and Love and You, The Avett Brothers have given us two things: an enduring piece of work, and a collection of songs to speak for us when we can't find the words.



1. Animal Collective: Merriweather Post Pavilion (Domino)




In the end, the best album of the year ended up being the very first one to be released, even though most of us were rocking the leak last December. Merriweather Post Pavilion's January 6 arrival not only set the bar ridiculously high for every release to follow, but it made it virtually impossible for anyone else over the next 12 months to even try to play catch up. Somehow, in a perfect bit of serendipity, three experimental musicians whose prior recorded output had won them just as much ire as it did reverence happened to construct a sonic tour de force that managed to resonate with just about anyone with a pulse. It's the first album since Kid A to render the structure of a song and the concept of a hook entirely meaningless, yet retain an unparalleled accessibility – the sort of phenomenon that unconsciously prompts you to evaluate what it is you love about music. It's all the more remarkable when you consider that Animal Collective made the world go crazy for an album with hardly any actual instruments on it at all. Technology instead supplants live instrumentation and blends with the magnificent harmonies between Dave Portner and Noah Lennox that float through the ether of Merriweather from beginning to end. A big reason why the album struck a chord with so many kinds of listeners is its openness; unlike much of the band's previous material, it presents us with no aural or thematic restrictions. At its heart, Merriweather is simply one giant love song. Its creators love their spouses, their children, their brothers, the nature that surrounds them, the feeling they get from the most mundane occurrences, and the idea of love itself. That's translated through the uncomplicated words and warm, radiant sounds that pervade through our speakers, and it's precisely why it kept our hearts beating the whole year. Merriweather Post Pavilion is everlasting. There might not ever be anything like it again.