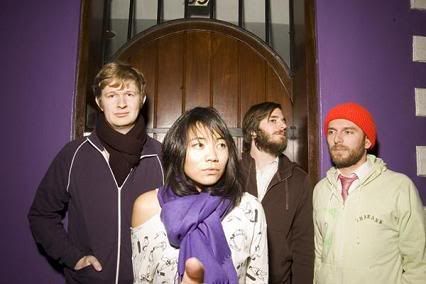 Ask most concert-goers in Nashville about Thao and The Get Down Stay Down and they will respond, "who?" "You know, the band that has been opening for Rilo Kiley all summer..." Still nothing. Well, I know who Thao and the boys are and last night they played an empty dive bar, much to my personal enjoyment - did I mention they were the headliners?

I ended up traveling solo to the show, and I am glad I did. Thao, drummer Willis, and bassist Adam were just sitting at the bar when I arrived. Immediately striking up a conversation with the trio over Red Stripes, we ended up hanging out together for the rest of the evening. They didn't know anyone at the show, and neither did I. We had that in common.
Willis explained that they had been on the road with Kiley going on six weeks now and they were looking forward to some time off. Thao admitted that she was tired and ready to head back to her current residence in San Francisco after the tours end. I had a chance to ask the band what they have been listening to record-wise while on the road and they cited Santogold, Fleet Foxes and a few others that slip my mind.
It was amusing talking to Thao about her newest record,
We Brave Bee Stings & All
and how some, if not most, reviewers find it a "summery" album. She laughed and said that it was obviously not her goal when she began writing, but she couldn't disagree. Thao soon slipped away to sit by herself, awaiting the call to the stage.
12:00 a.m. - Thao, Willis and Adam take the stage ripping into an amazing set, that fell mainly upon deaf ears, save a few. Come on Nashville you are better than this. Thao's beautiful auburn-hollow bodied guitar, coupled with her expert and unique playing style made for a rich sound. Stripped down to a trio, Thao becomes even more of the focal point, as does her playing ability. Willis and Adam did well to sit back, lay down the grooves and let Thao do what she does. Unusually soft spoken off stage, Thao becomes an act to behold on stage, gyrating around and screaming vocals with an unrestrained elegance. The band's presence was too big for the venue. The evening's set list read: (order of songs not exact)
-Beat (Health, Life And Fire)
-Geography
-Feet Asleep
-Bag of Hammers
-Violet
-Swimming Pools
-Travel
-Fear and Convenience
I was seemingly the only Thao fan in the audience, and after the show, the band expressed their gratefulness - they will be heading to Athens, GA., for a recording session at Paste magazine, then Virginia and then back home to D.C. Check them out if you can, and say Vince from Nashville sent you.
Thao Myspace

After the jump.