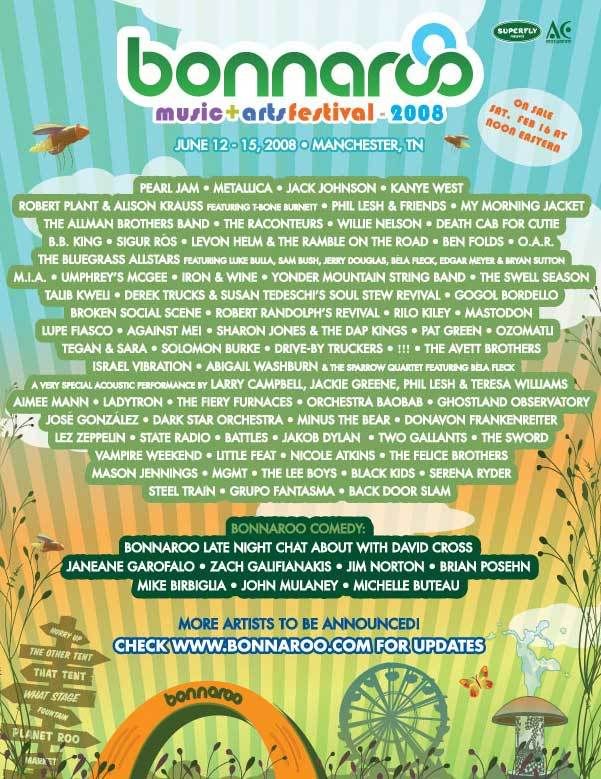 Yes, I went to Bonnaroo. Yes, I made it to work this morning. And yes, I have a Bonnaroo hangover. What does that consist of, you ask? Combine heat stroke, a regular hangover and sleep deprivation, add sore joints from sleeping in odd places, mysterious cuts and bruises and sensory overload. Then you're about there.
I can't complain. I went to Bonnaroo for free, had press access and procured an artist pass. Here is a little recap as I come down from the 'Roo:
Who I encountered:
-Jeff Carter of the Philadelphia Flyers, Beatle Bob , The Wood Brothers w/John Medeski, Battles, MGMT, Dirty Dozen Brass Band, Amie Mann, Chan Marshall (a.k.a. Cat Power, who winked and smiled at me), Sigur Ros, De Novo Dahl, Alia Shawkat (Maeby from Arrested Development) and Samuel Beam from Iron and Wine.
Best of performances:
-Metallica, MMJ, Superdrag, Battles, The Felice Brothers, The Avett Brothers, Levon Helm, Adele, M.I.A., The Wood Brothers, Two Gallants, Comedian Louis C.K., Cat Power, Sharon Jones, Sigur Ros, Chromeo and others.
Not the worst, but not the best:
-DBT, The Raconteurs, Pearl Jam, Willie Nelson, didn't stay up for it but Kanye, and Rogue Wave.
Best extracurriculars:
-Swag in the artist area, Sunday morning mimosas, free food and drinks in the radio tent, backstage access, clean Port-o-potties, air conditioned press/artist tent, the photo pit, watching the silent disco, the fire exhibit, comedy tent and more.
Worst extracurriculars:
- The coffee in the press tent, mud, security personnel, $6 for everything, the sun, not getting back stage, the main stages, press bleachers, dodging golf carts and more...